Checking the Progress of an Order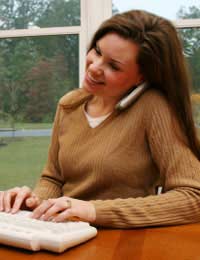 We have looked at what happens when you place an order so it is just as important to discuss what is likely to happen should you need to check the progress of an outstanding order.
I've Placed My Order, What Happens Now?
When you originally placed your order over the telephone you will have received an order number – sometimes referred to as an 'Order Reference Number'. This number is your personal reference number and relates directly to the order you made when you first called. In addition this number will relate directly to any account number that was allocated to you when you made your purchase. This is especially true of high street catalogues or supermarket chains that now sell electrical or household goods.
When you placed your order you will have been given a delivery date; unless this delivery date cannot be met for reasons of logistical difficulties or low stock then you should have no need to speak to the company again regarding this order. Likewise they should have no reason to contact you unless it is to confirm you will be at home on the date specified.
My Order Hasn't Arrived What Should I Do?
It is always a wise option – time permitting – to call the company responsible for your order and to double check as to the delivery status of the item or items you have ordered. This is where your 'Order Reference Number' comes into play and providing the individual on the telephone with this number will speed up their ability to locate your order on their system.
If all is well then you will be told of the delivery date and it will be confirmed that someone will be present to receive the item on delivery.
If on the other hand your order has not arrived on its specified date then you should ring to ask why? Don't worry about doing this – it is after all – your legal right. Most companies will have an automated telephone system with an option for outstanding orders. This will transfer you directly to the order processing department where you are most likely to find someone who can help with your query.
My Order Has Been Dispatched but Hasn't Arrived
If this is the case then the company who have accepted your order are responsible for locating your items and determining when they will be delivered. Some companies use the Post Office for the delivery of their items and may provide you with a 13-digit tracking number which you – the customer – can check for yourself on the Post Office's website.
You may be asked if they can call you back once they have ascertained the whereabouts and nature of the delivery's delay. This is acceptable and you should allow the company a set period of time – normally agreed by both parties – in which they can call you back. If they do not call you back within this timescale then you are well within your rights to call again and ask to speak to someone in authority.
My Order Hasn't Turned Up, Should I Make a Complaint?
The simple answer to this question is – yes but only if the company has not made every opportunity to provide you with the information relating to your query and are not closer to giving you a firm delivery date. Again this is your right especially if the item has already been purchased; the company has taken the money from your account but you have received no goods, therefore the law says you can reasonably make an official complaint in order to seek either a full refund or a definitive delivery date.
Before contacting a company to query an order it is worth checking over any paperwork you may have received from them; this should be done to ensure that there are no special instructions that have been overlooked or changes to delivery dates and times. Once you are satisfied that you have made all the relevant checks and that all information is as was given to you then is the time to query the progress of your order.
You might also like...