Recording Calls for Training Purposes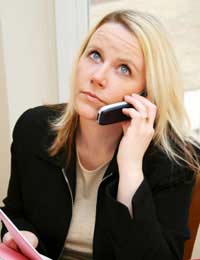 There may be times when you make a call to a company or a company's representative when the call is recorded for the use in training exercises. These training exercises are designed to help existing and new staff come to terms with the many and varied customers that can contact them at any given time.
How Do I Know if a Call is Being Recorded?
By law any company that records telephone calls for the purposes of security or training must inform you of such a procedure before the call continues. It is imperative that they do so in order to allow you to give permission for the call and the recording to continue.
The warning normally takes the form of a pre-scripted disclaimer which will normally be along the lines of: 'We should advise you that this call may be monitored for training purposes'. You will then be asked to give your consent to allow this to take place, if not you will be asked to terminate the call and a representative may call you back from a line that is not being monitored.
What Happens to Recorded Calls?
As we have already mentioned, recorded calls can be used for the purposes of training or security, especially if the call will contain information regarding personal data such as account information. The calls may also be used for what is known as 'Mystery Shopping'. When calls are recorded they are usually saved to hard disc on a computer and will be erased after a suitable period of time.
What is Mystery Shopping?
Mystery Shopping is the term given to the practice of employees contacting other employees through normal channels to test out how they deal with customers and to ear mark areas of their technique which may require attention. This practice is designed to cut down on the giving out of false or misleading information as well as ensuring that all telephone-based employees speak to customers in a manner and tone befitting of their position.
Who Has Access to Such Recorded Conversations?
For the most part such recorded material is only available to senior staff or dedicated personnel such as managers and HR (Human Resources) personnel. These calls may be played back however to a larger audience but all information with reference to your personal details such as bank account details etc is removed so that it cannot be written down or memorised by unauthorised staff.
Can I Find Out if Any Business I Deal with Stores Information About Me?
Under the guidelines referred to within the Data Protection Act 1987 anyone has the right to petition a company, business or government organisation with reference to the information stored on file about them. Upon receipt of a written request from you the body petitioned has a set period of time in which to reply to you detailing exactly what information about you is kept and in what manner it is used. Any use of your details in training exercises must be declared and likewise at this point you may make it known in written form that you object to the use of your information.
If this is the case any organisation refused permission to use your information must cease to do so immediately or face stiff penalties under the Data Protection Act 1987.
It is also worth noting that any calls made to you by companies offering to avail you of their services may also record calls and if they do not volunteer this information before the call commences you should ask them to confirm whether or not a recording is being made.
You might also like...