What is Email Hacking?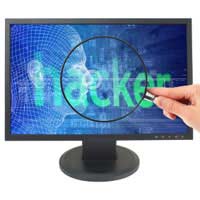 We rely on our email for communication, and many of us have several accounts, one or more through our Internet service provider (ISPs), plus other that are web-based, such as Yahoo, Hotmail, gmail or a number of others.
But the hacking of email can be quite commonplace. It doesn't happen anywhere near so often on accounts through ISPs, but hacking Hotmail passwords or those for Yahoo happens regularly, as is very easy to do.
How Does Email Hacking Happen?
There are many ways someone can start email password hacking. If they have access to your machine, it's child's play to install keystroke logger software. This allows the hacker to remotely know everything you type, so password hacking becomes a piece of cake.
But what if the hacker can't get at your computer? It's actually still pretty simple. It could be a matter of trial and error, although that's time-consuming and not too satisfactory. Far more productive are social engineering techniques that take pieces of knowledge easily available and fool you into giving answers to others until the password is broken. Hacking is an art, but email password hacking is at the very easy end. There are also professionals advertising online for whom hacking is their work and income and can hack quickly and easily – after all, the aim is for the person not to know the password hacking has happened.
Although Yahoo email has traditionally been the easiest target, hacking Hotmail passwords is also very easy. What you really need to remember is that your email isn't safe, and may well not be personal at all.
How To Prevent Email Hacking
To put it bluntly, you can't stop a determined hack. But there are steps you can take to lessen the possibility of hacking. Don't give anyone access to your computer – keystroke loggers might be illegal, but people still use them. Make sure you have anti-spyware software installed and run it regularly. Likewise, keep your antivirus software and firewall up to date and make sure they're running.
If someone asks questions about your email, particularly for your password, don't give it (of course, if it's your boss at work, you don't really have a choice). Don't use private email accounts on your computer at work – if a keystroke logger is installed, and some companies do use them to monitor employee activity, then you've just given away your mail password, making hacking a minute's work.
You might think that hacking won't affect you – after all, why would someone choose you for email password hacking? – but you can't be sure of that at all, It can happen for many reasons. You might find a hack on your account and it's being used to send spam or malware, for instance. Or someone is being malicious. It happens all the time with people hacking Hotmail passwords and those for Yahoo.
You're definitely safer using your "proper" email account, but hacking can go on there, too. You need to have a password that's a combination of letters and numbers (this applies to all accounts, and don't use the same password for them all), making it harder to hack.
You might also like...
MATRIX 147 is a group with an experienced hackers. My team & I can hack any EMAIL ID. (Yahoo,gmx, Gmail, Hotmail, Rocketmail, Sina, Facebook, Instagram,AOl, Outlook etc),irrespective of the reason,ie monitoring cheating spouses, protecting a family member, get you compromised account back, delete a mail you don t want the target to get, payback or whatever personal or non-personal reason you may have for a reasonable fee. Send us a mail matrixhackka007 (@) gmail com
cortty
- 9-Jul-15 @ 11:49 PM
@GG, try contacting them via other means such as text message or social media, or set up another email address and copy your contacts into that one and email them from there.
joey
- 15-Jul-14 @ 10:51 AM
My email has been hacked. How do I deal with this? How do I advise all on my email list that they have received an email from a hacker proporting to be mer?
GG
- 15-Jul-14 @ 10:42 AM
I got this email from someone saying that they get money on google can you remove the hacker for good it's really annoying
kevin Rickett
- 30-Apr-11 @ 7:04 PM