Applying for a Loan Online or by Phone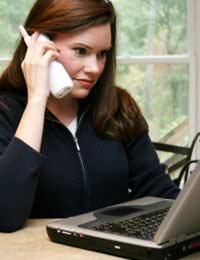 In today's every changing financial market both consumers and businesses alike are looking for new and innovative ways in which to process loan applications. Initially this used to be by completing a printed application form which was sent to you by request and then returning it to a specific postal address. But as technology has improved so too have the methods of applying for a loan. Now it can be done at home or at work in your lunch break - here we look at how this can be achieved.
Applying by Telephone
This is one of the most common ways in which you can apply for a loan these days. Many loan providers send out information via the postal system, advertising in newspapers and magazines, or via electronic mail and offer the potential customer the opportunity to call a specific telephone number which connects to a call centre dealing specifically with loan applications.
Normally we are told the process can take around ten minutes with an 'In Principle Decision' at the end of the call. This is sometimes true but varies depending on the information you are required to give and also by your own personal circumstances.
What Information Do I Need to Provide by Telephone?
When applying for a loan by telephone you will need to be able to provide details of the following:
Name
Address
Date of Birth
National Insurance Number
Occupation
Are You a Homeowner?
Time at your Present Address
Marital Status
Income and Outgoings
These are examples of the most commonly asked for information but each bank and building society operate to slightly different criteria so you may find that some of the information you are asked for is in addition to that mentioned previously.
Can I Really Get A Decision While I'm On The Telephone?
In some cases yes you can but it is classed as an 'In Principle Decision' - this means that the bank or building society have carried out an interim credit check and that all seems fine. You will have to wait however until a complete credit history is carried out. This cannot be done while you are on the telephone and normally you have to wait five to seven days for a written decision.
The nature of your decision depends entirely on what happens next; if you have been accepted for a loan you will then have to fill out some paperwork which will be sent out to you as well as provide copies of bank statements, letters of employment, company payslips and a copy of your passport for the purposes of proving your identity.
What Happens if a Company Contacts Me To Offer a Loan?
The first thing to remember is safety and in this age of identity theft it is important to make sure that the person you are speaking to is from the company they claim to represent. In order to do this it is best - if you are interested in pursuing an application - to take the name and number of the person calling and ask to call them back. Don't take a direct line number initially. Ask for the company's main switchboard number and call back to verify the identity of the person calling and also the company's existence.
Applying via the Internet
Many banks and building societies now offer their customers and potential new customers the opportunity to apply for a loan online. This is much the same as telephoning a call centre in that the questions and information you are asked for are the same. You may also be asked for some additional information whilst filling out an online application.
Again you will be given the opportunity to receive an 'In Principle Decision' but just as with a telephone application may have to wait for a written decision. In addition to this you will be given a reference number which you can use if you wish to call and check on the status of your application. Applying online also gives you the option to print off your application and keep it so that you can use it to discuss your application as and when a member of staff contacts you.
Is Applying Online Safe?
In essence yes all banks and building societies in the United Kingdom offer the highest level of online security they can which is normally 128-bit encryption. If you are unsure as to how safe your application may be online perhaps it is best to use the telephone option which some prefer simply because it maintains a level of human contact.
You might also like...