Change Your Telephone Number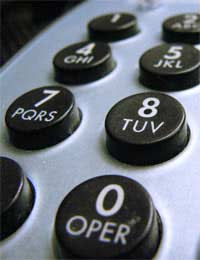 There are a variety of different reasons as to why you might need to change your telephone number. Sometimes it may have to be changed because you have moved home and you cannot take your number with you or because you are receiving a multitude of unsolicited and unwanted telephone calls from organisations or companies who want to try and sell you goods you simply are not interested in.
Whatever the reason you should be aware that the process – albeit a simple one – is one that needs to be handled in the correct manner.
I Keep Receiving Hoax or Nuisance Calls – What Should I Do?
The first thing to do is contact your telephone service provider who will be obliged to try and help you prevent the situation from continuing any further. One of the many things your telephone service provider will do is offer advice on how to deal with such calls especially if the individual on the other end of the line does not speak.
Telephone service providers have what are known as Malicious Calls Bureaus who will offer advice and support and, should the situation continue, will be able to apply a trace to your line in order to find out where the calls are coming from. This is something that is much easier now that most telephone exchanges operate on a digital system.
What Happens if the Malicious Calls Bureau's Help Doesn't Solve the Problem?
You then need to think about changing your telephone number which can – now that most of the telephone service providers are operating on a digital system – take a matter of a few moments. The difficulty with changing your number without prior warning is that anyone who may need to contact you will be presented with a dead tone as though the line no longer exists.
If possible ask the telephone service provider to delay the changing of your number by twenty four hours, giving you time to pass on your new number (which you will have by this time) to those close to you who will need it. You should also be aware that after passing out the new number if the hoax or nuisance calls persist you should contact the police as someone within your close family or friends is responsible.
I Want My Number Ex-Directory
Having your number ex-directory is no problem at all although your service provider may charge you a small fee for this service. Your number will not be listed in any of the Yellow Pages, White Pages or other telephone directories and will also not appear on any online telephone directories either.
You will be asked at the time of changing your number if you wish your number to be ex-directory or not but you should be aware that once you make the decision it may be hard to change it later on especially if your details have already been sent for inclusion in the aforementioned directories.
What Else Should I Remember When Changing My Number?
You should remember to contact those organisations or companies that you deal with regularly and inform them of your change of number. Some companies such as banks, building societies and credit card companies often use your telephone number as part of their security checks (they do this if you are calling from the number on their screens) and often if the numbers don't match it can cause a problem.
Another important piece of advice is to sparingly give out your telephone number especially if it is ex-directory. Only provide it for those people you deal with or wish to deal with regularly.
You might also like...
07869116167 ,07528993255, 07861688108, 01707251815,02073775447, 02073779562,07534072625,02073645665,02073925400,
Churwillll
- 20-May-20 @ 4:08 AM
Style and I will go to see you when Adam I get off of your wedding
Hapoy
- 20-May-20 @ 4:00 AM
Hi I'm enquiring regarding mobile number masking for my company number. I'd like to show alternative number to reply to missed calls received my consumers .Please thanks
I want to change my phone number now because of nuisance calls
simon
- 13-Jun-18 @ 12:21 AM
I want to change my number but I'm with Vodafone and they say that they can't change it. That can't be right surely?
Bluedot90
- 12-Jun-18 @ 1:08 PM
@fishheadsally - then change it, it's not that difficult.
RaB
- 21-May-18 @ 11:02 AM
I want to change my number because of nuisance calls
fishheadsally
- 20-May-18 @ 2:04 PM
@Chris- you would need to get in touch with your telephone service provider directly.
Need to change my landline number please who do I get in contact with
Chris
- 28-Nov-17 @ 3:08 PM
you have changed my phone number from 012346853064 to 01246476490
ben
- 13-Oct-15 @ 12:25 PM
We have, on the 11th October, switched from Sky to BT telephone line. TYou have given us a NEW telephone no, 01691676158.I did phone you on about 8th October to say we didn't wish to change our telephone no, as we have had 01691 659761 for over 40 years.We now find that you have given us the new number. Can you please amend your records so that we can continue to use our old number01691 659761. Thankyou. Please notify us when this has been done. M F McKie
Mack
- 12-Oct-13 @ 11:51 AM