Avoiding Telephone Fraud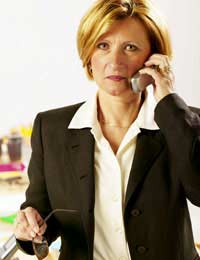 As we are all very much aware the number of cases of Identity Theft have been increasing dramatically over the last few years. With this in mind it is important to examine one of the most common ways in which Identity Theft can take place – over the telephone.
I Have Received a Call from a Company I Don't Know, What Should I Do?
The first thing to remember is that cold calling is no longer as acceptable as it once was. Have you registered for the Telephone Preference Service? Is your number Ex-Directory?
If you receive a call from someone claiming to represent a company you have never heard of before ask them to give you contact details relating to the company such as telephone number, company name, company address and company registration number.
This is a good way to establish the legitimacy of any call you receive – legitimate businesses and their representatives will be able to provide you with this information straight away and will have no qualms in doing so.
Where Did They Get My Details?
This is a question that anyone receiving a cold call – or unsolicited call – should be asking from the outset. Most companies buy in their data from external marketing companies who collate names, addresses and telephone numbers from a number of different sources including electoral roles, council housing lists and credit check companies. Although it is not illegal to do this it can sometimes prove to be not wholly accurate information.
If a company refuses to tell you where they got your details from then you should refuse to answer any further questions and hang up. Make sure you make a note of the number from your caller display if you have one.
The Caller Asked for My Bank Account Details
This is the first thing that makes a genuine cold call stand out from a bogus one – no genuine company will ask you for your bank account or credit card details during an initial call. If you have been asked for such details refuse firmly buy politely to do so and tell them you are terminating the call. A genuine caller will not under any circumstances ask for such information unless you decide you want to make a purchase – if it is a company – or a donation if it is a charity.
The Caller Asked for My Date of Birth
Again this is something that no genuine caller will ask you for; if they are genuine then they will probably already have this information amongst the data they have purchased from an outsourcing company. Any caller asking for your date of birth, national insurance number or ethnicity should be treated with suspicion.
I Have Gotten Them Off The Line, What Should I Do Now?
You will find that you probably aren't the only one in your area to receive such a call and you should contact your telephone service provider who will have a Malicious and Nuisance Calls Department – give all information you have to them along with any telephone numbers you have managed to glean.
You might also like...
I feel like this website is highly abusive to children... It scares me because I too beat my children and it feels great. But I only do it for fun while this website does it out of anger... please call the police
Jack's meat boy
- 3-Nov-20 @ 1:46 PM
I love to do this a lot.It gives lot of money. Have you recently been in a car crash. (My favourite tactic) I now know how to better my chances at success.
Nigel Lover 69
- 3-Nov-20 @ 1:42 PM