Telephone Banking Pros & Cons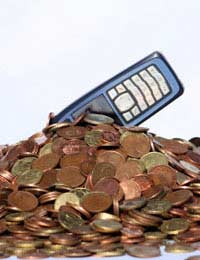 Although much of today's banking is carried out over the Internet there are still those among us who prefer to use the now rather old fashioned telephone banking facilities that banks and building societies still offer their clients.
More often than not these services are offered as a way of backing up their Internet services in case of server error but they are also still used to great effect when it comes to applying for loans and overdrafts.
Is Telephone Banking Safe?
Many would argue that telephone banking is safer than Internet banking given the recent increase in Internet and Identity Fraud. A lot of us still like to talk to a human being rather than a machine and telephone banking provides us with that facility as well as giving us the opportunity to ask questions which may not be included or allowed for on a bank or building society's website.
The Advantages of Telephone Banking?
The big advantages of telephone banking are – as we have already mentioned – the ability to speak to another human being and discuss with them any issue that may not be mentioned or catered for on the website. In addition to that speaking to a call centre staff member allows for the provision of information such as any payments that are waiting to go into your account or go out. This information is not provided on their websites.
The Disadvantages of Telephone Banking
The most common one would have to be the fact that not all banks and building societies offer 24 hour telephone banking. They may if it is simply a case of checking your balance or recent transactions but for anything more involved in that it can cause a problem. Also telephone banking is not active usually over bank holidays such as Christmas Day or New Years Day whereas Internet banking is available all year round.
Security Issues
We have already looked at whether or not telephone banking is safe and for the most part it is as safe as it can be. Calls are normally recorded – and you will be made aware of this when you call – so that identity fraud can be reduced and also to ensure that staff are trained to the highest standard. It is also extremely difficult for an identity fraudster to defraud your account using telephone banking unless they have a huge volume of information on you including passwords etc. Internet banking can be easier to defraud – all the fraudster needs is access to your computer – and the ability to access files containing passwords, bank or building society account numbers etc.
As we have mentioned telephone banking is perhaps not as accessible as Internet banking but it has advantages that make it as attractive a facility as its more technique counterpart. In addition to these points it is still very much the case that many of us prefer to speak to a human being who will answer our questions, take the time to listen to us and help us in any further way they can, as opposed to a front-end menu system which allows for a set series of functions with no scope for movement.
You might also like...