What Makes a Good Public Speaker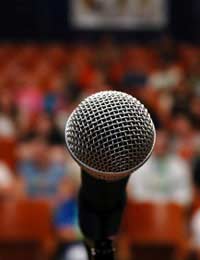 Having to speak in public can seem very daunting to many people. Being up there in front of an audience, you can seem exposed, even naked. It can leave those who hate it tongue-tied. But there are also others who absolutely love it and relish having a crowd listening to them.
It doesn't matter whether you love it or hate it, though, there are things you can do to make your public speaking better and more effective. For those who fear it, the tips can bring increased confidence when facing others, and for the ones who enjoy the experience, they can make them into more powerful orators.
The Basics of Public Speaking
You're not going to hold an audience if you have your head buried in your notes. Refer to them, by all means, but you need to know them well before you stand up on a stage. Keep your head up, look at the audience, and learn how to project your voice.
That last point is one of the most vital. A timid whisper, or even a normal speaking voice, isn't going to reach the back of a hall, or even a large room. You don't need to shout – if fact that's something you absolutely shouldn't do – but you need to speak from your diaphragm, not your throat. Projecting your voice is something all actors learn, and you need to understand it, too – after all, in many ways, when you're up there, you're an actor, too.
Don't rush through your speech. You have points to make, and you want people to understand and reflect on them. Make sure you leave pauses to allow for that. It has the added advantage of letting you catch your breath, too.
Are you using audio-visual aids or handouts? If so, make sure everything is working properly, that you know how to use them, and that the handouts are all there before you begin. There's nothing more embarrassing than having to stop and repair something or find a vital handout. It ruins the flow of the speech – and you lose your audience.
Other Ideas to Help with Public Speaking
Don't be afraid of bringing humour into your presentation. It breaks the ice and helps your audience to warm to you by making you more human. It also makes your speech more memorable and interesting, which, after all, is what you want. How many times have you had to sit through a boring speech only to find you don't remember a single word an hour later?
Body language is also important to pushing your points. Don't just stand there like a block of wood. Move around a little, use facial expressions, bang your hands on the podium – they all bring your speech to life and capture the attention of your crowd.
Be persuasive in your speech. Sound convincing and passionate about your subject – you're supposed to be an expert, which is why you're giving the talk. Sell the topic, and make your argument logically, progressing naturally from point to point.
A speech is about communication. Where appropriate, allow a question and answer period at the end. Listen carefully to the questions and answer them as fully as you can, but at the same time be concise – a fine line, but manageable with experience.
Finally, and just as important as everything else, is to know when to stop. Don't drone on and on just to hear your own voice or fill time. It's far better to be brief and entertaining than lengthy and boring. Leave them wanting more. That way they'll ask you back to speak again.
You might also like...
This does not help me what's so ever. I can't hear English because of my disability of short term memory loss. I can speak Scottish but at times my mother screams at me because I ate her children. My dad speaks french and it confuses me because I think he wants to rape me. ~ Jack Kay
I eat kids
- 3-Nov-20 @ 1:41 PM
Thank you.I have had problems speaking publicly in the past.My main issue is my business speaks Liverpool and it isnt my first language I speak Bradford.You have been a massive help.
Nigel Lover 69
- 3-Nov-20 @ 1:32 PM