Advertising and the Law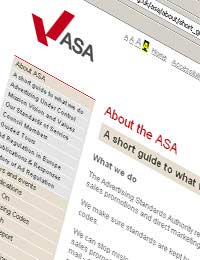 As an advertiser - be it on television, the Internet, radio or in printed media, companies must be aware that the products and services they are advertising are fit for purpose and that their claims are not misleading or in any way harmful or offensive.
Many companies spend thousands of pounds before beginning an advertising campaign in order to ensure that their particular promotion will be targeted towards the right demographic and also that it will not offend or cause offensive to ethnic minorities, religious groups or indeed anyone who happens to be subjected to their campaign.
Advertising Standards Authority
The Advertising Standards Authority (ASA) is an independent body that was set up to help provide a forum and voice for members of the public who wish to complain about the style and content of advertising in the press and other media. The purpose of the ASA is to provide an impartial and balanced opinion and adjudication on any advertisement - from any media - that causes offence, misleads the public or is in any way derogatory, sexist or racist.
If you have saw an advertisement that has caused you offence or perhaps you have found the claims of the advertisement bold and difficult to accept then perhaps contacting the Advertising Standards Authority is your best course of action.
What the Law Says about Advertising
The law has been altered repeatedly over the years to take into account the variety of different ways in which companies - large and small - can attract business from potential clients. Television and the press are the most commonly used forms of advertising but since the advent of the Internet and the boom in the number of Internet users the laws have had to be altered to cope with this addition medium.
Advertising - although entertaining - must above all else be informative and not misleading; something which organisations such as Trading Standards and the aforementioned Advertising Standards Agency (ASA) aim to ensure is the case with the assistance of the public.
The Role of Men and Women in Advertising Campaigns
One aspect of advertising which always seems to come up for discussion is how men and women are portrayed in advertising campaigns. Indeed for the most part men are often viewed as the dominant sex and women are portrayed as symbols of sexual desire; something that although for the most part is handled sensitively can still cause offence. This is very much the case when it comes to partial nudity in commercial advertising campaigns; all such ads must be screened and censored if necessary before being run on television and in the press.
The Use of Children in Advertising
Given changes in society and the highly sensitive nature of children's issues many advertisers will steer clear of using children in their campaigns if they can. However, if the product or service in question is something that is destined for use by children then it is only to be expected that children will be used in its advertising. Both the government and the Advertising Standards Authority (ASA) take a stern view on such advertisements and any complaints raised as a result and it is important to remember that even though such advertisements - either in print or on television - may not cause offence they must be seen to be correct in relation to information and substance.
For further information on such issues relating to advertising law and how advertising is governed the Advertising Standards Authority (ASA) website will provide you with information as well as an up to date list of adjudications relating to currently offensive or controversial advertising campaigns.
You might also like...