Placing an Order by Telephone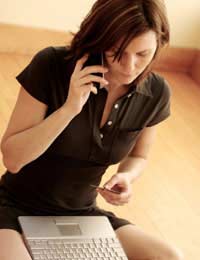 Something that many of us have done from time to time is to place an order by telephone. From ordering a takeaway meal to ordering items for the home we have all experienced it and as such it is worth examining exactly what we have to do in order for the person on the other end of the line to ensure we get what we want when we want it.
What Information You Should Have before Placing an Order
When placing an order over the telephone it is always important to be able to provide the individual you will speak with, with as much information as you possibly can. Not only does this ensure that you are confident in what you have ordered is right but also helps the person on the other end of the line ensure they give you as much help as they can throughout the duration of the call.
Let's look for example at ordering a product from a high street catalogue. There are many similar products to choose from so being able to detail the exact make and model you want is a must. To order such an item from a catalogue you would normally need:
Catalogue Number
Product name
Product Description
Unit Price
Manufacturer's Name
Page Number
Supplying the above information as opposed to simply providing the catalogue number ensures that it really is the right product. Sometimes catalogues change catalogue numbers after they have been printed so therefore providing this information means that both you and the person taking your order can be sure you are talking about the same item.
Personal Information
Another important factor of information when placing an order over the telephone is that which relates to you personally. Again we are looking at information such as:
Name
Address
Telephone Number
Contact Telephone Number (work or mobile)
Credit Card details
It is when we get to the last required piece of information – that relating to your credit card number – when many people find that they become apprehensive.
Ensuring the Safety of Your Information
It is common place for most businesses to store your information on a computer system – especially that information relating to credit or debit cards – and this information can only be accessed by authorised personnel. These personnel are all checked for prior criminal convictions and are thoroughly screened before being allowed to work with such sensitive data.
In addition most of the computer systems that are used to store such information are encrypted and passwords changed on a regular basis to help cut down on potential theft of information. The numbers of reported identity thefts from high street outlets is considerably smaller than those instances reported of individuals stealing other individuals' details.
Completing Your Order
Once you have placed your order over the telephone the member of staff charged with processing it will put your card details through on their system while you wait. This normally only takes a matter of minutes and then you will be asked to write down what is referred to as an 'authorisation number'.
This 'authorisation number' is your proof that the payment has been made and that the money either has been – or will shortly be – deducted from your account. You should be aware however that not all businesses' transactions display on your account immediately. You may notice a reduction in your balance that is the same as the amount you have paid but the actual details of such a payment may not appear until the next day. This is nothing to worry about and is simply a delayed action between business and bank or building society.
Once your order has been completed you will be given an order number which you should keep handy in case you need to call again with reference to your order.
You might also like...