Dealing with Cold Calls to Your Home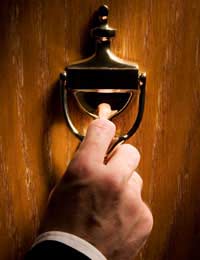 At some point in time either in the past or in the future you will receive a call to your home from an individual who has been given your name and telephone number and asked to call you as a representative of their company.
If this is a company that you have previously not had any dealings with then this is what is known as a 'cold call'.
What Constitutes a Cold Call?
A cold call is a call from an organisation or company that has previously had no reason to contact you. In essence cold calls are used as a marketing and sales tool with two specific aims:
To offer you the chance to buy a product or service
To collate information for use in further sales drives and promotions
This is a practice that is synonymous with double glazing companies or fitted kitchen companies but which has spread right across most sectors of business at one time or another.
Where Did They Get My Details?
Specialist marketing companies offer businesses and companies alike the chance to purchase lists – or databases – of information from which they work. This information is normally gathered from telephone directories, electoral rolls and other sources and is then cleansed. When information is cleansed it is intended that numbers that are no longer valid or individuals no longer living at a particular address are removed from these lists however sometimes this is not always the case.
These marketing companies then sell on this information to companies who are looking to attract new business. This is particularly difficult to police when it comes to organisations whose client base would normally be domestic customers.
I Have Asked Them to Stop Calling but They Still Do
Many residential customers who continually receive cold calls from companies they have no dealings with often ask for their details to be removed. It is now law that if you ask for this to be done it should be done and failure to do so can result in hefty fines being levied against the companies responsible.
If you receive such a call from a company you do not know you should first of all refuse to give out or confirm any information that they ask for. This is especially important when it comes to information about bank accounts and credit cards.
Ask them where they got your information from – you will find that this question often slows the canvasser down and allows you time to exercise your right to refuse any further contact.
Be Calm and Be Polite
We have all saw consumer programmes on telephone which detail companies who continue to call even after they have been asked not to. This sometimes happens if the person being called is abusive or unpleasant. It is important to remember that although you do not want to take these calls another person is being employed to make them.
Remain calm and politely refuse to continue with the call. If they continue then you have the right to explain that you are putting down the telephone and they should not call again. Make a note of the telephone number if there is one available and if you have caller display. Although most telephone networks operate a number redial service free of charge which allows for the number to be shown.
You can call the company back at a time of your choosing and ask to speak to someone who can help you deal with the matter and ask them to have your details removed.
Telephone Preference Service
The Telephone Preference Service is a service set up to help individuals such as you who have been receiving unwanted cold calls. You can apply online to be added to their database and this information is then circulated to all companies who purchase marketing data. Continued calling from a company after you have been added to the TPS database is an offence and should be reported to the Telephone Preference Service.
Finally if you are receiving calls after 6pm at night which are displayed as withheld numbers then it is fairly safe to assume it is someone who does not want you to have their number. If you do receive such calls do not answer them and if they continue report them to your telephone service provider whose Malicious and Nuisance Calls Department can trace any such numbers.
You might also like...
how can I report a company who have been ringing me continually for the past 2 year's, we are so fed up with them ringing, we dread answering the telephone,
Anji0007
- 1-Jul-15 @ 4:31 PM