How Businesses Use the Media to Advertise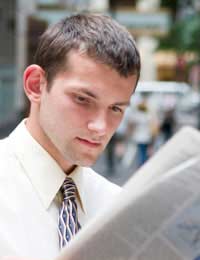 Most households in the United Kingdom have at least one television - some having a television in each room - and with this blanket coverage comes the opportunity for businesses both large and small, local and global, to advertise their products and services at any time of the day or night so that they reach their target audiences.
Television Advertising
Television advertising is where many companies and businesses alike find most of their customers. Indeed such is the success of television advertising the cost of advertising can run into millions depending on what time of day you want your advertisements to be shown.
This is so true when it comes to prime-time television; prime time television is normally 7pm to 11pm and during this time there are a wealth of soap operas, documentaries, dramas and feature films that many of us in the United Kingdom make time to sit down and watch. It is during these periods that most advertising on television reaches its target audience and therefore those people who will buy.
The Press and Magazines
Each day there are millions of tabloid and broad sheet newspapers sold throughout the United Kingdom and if you buy just one of these newspapers you will see a wealth of advertising from a variety of different companies and businesses. Printed advertising reaches a huge number of people in the United Kingdom and allows for a more detailed advertisement than is possible on television. You should note on television that the average commercial lasts no more than a minute and a half and in that time the advertiser needs to provide you with as much information about their products as well as using a slogan or series of images that will make the product stand out.
Printed media allows for a one page advertisement to carry more information and therefore a considerable amount of influence. This is also true of magazines which can be targeted toward a particular demographic or culture.
Cinema and DVDBack in the 1950s and 1960s when television was still a fresh idea and indeed an expensive one - cinema was a leading force for advertising. Even today this trend in advertising in cinemas is still popular and demand is high to have advertisements shown before the latest releases or the summer blockbusters.
That trend is now carrying across to DVD (Digital Versatile Disc) with advertisements being placed on the disc before the main feature - just like in the cinema. Again this is designed to catch the potential customer's eye especially if they have DVDs that can be watched more than once.
Local Radio
Every city has its own radio station and as a result local businesses can market themselves more towards customers within their own locale. This is a useful tool for selling as local businesses can bring a more personal level to their commercials and also make use of the landmarks and culture surrounding them - allowing the potential customer to feel as though they are being communicated directly to by the companies.
For more information on how to advertise your own business you should contact your local newspapers or radio station and speak to their advertising and marketing director who can help with costing's, details and also how best to promote your product or service.
You might also like...