Dealing with Your Overdue Account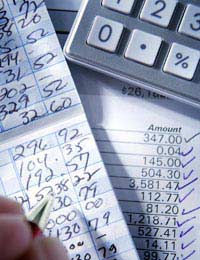 It can happen to us all at one time or another, we think we have more money in our account then we actually do and then we find that we owe the bank or building society money in charges for being overdrawn or overdue when it comes to a loan repayment.
I Need to Speak to The Bank About My Account, What Should I Do?
The first thing to remember is not to panic. Although many of us receive letters from the bank or building society regarding charges there are still a great many of us who panic and fluster over owing money. You will also find a great many people who do not correctly read such letters and often only concentrate on the fact they owe money. There may also be information contained in the letter as to how this came to be. Your first prior is to read thoroughly any correspondence from any company or organisation that says your account is overdue.
What Information Do I Need When I Call?
As always name, address, postcode, account number and security password are the most commonly asked for pieces of information. You may also be asked to detail a payment made from your account or to your account so having a recent statement to hand is also useful. Remember that you cannot ask anyone else to call on your behalf unless you are with them to give authorisation over the telephone.
You should also have with you the correspondence you have received which will detail exactly the nature of the problem and also the amount that is outstanding. This correspondence will have its own unique reference number which when entered into the company's system will display your account details – you should make sure you have this as well.
What Questions Should I Ask?
If you are not one hundred per cent convinced or happy with the explanation given in the correspondence you have received then you should ask the person you speak to for a more detailed explanation. Remember to ask your questions clearly and concisely and wait for the other person to give you their answers. It is important to remember that however tempting it might be to butt in this can sometimes seek to complicate things further.
I'm Not Happy With The Information I Have Been Given, What Should I Do Now?
It is fair to say – and this is not a criticism of call centre staff – that they can only give you limited information and help answer a limited number of problems. To this end it is sometimes worth asking to speak to a supervisor or team leader who may be able to offer further explanations or indeed help you come to an arrangement to put your account back in order. More often than not supervisors and team leaders are authorised to do this but again it is important to get their name and position should you be transferred to another party.
We've Come to An Agreement, What Now?
If you have managed to speak to someone who has been to help resolve your issue or indeed make a an agreement with you to pay back any outstanding monies then you should ask for their name and position within the company and also a telephone extension if they have one. You should also ask that details of this agreement be sent out to you in writing so all parties concerned are fully conversant with the nature of such agreements.
If you have not received any written confirmation within seven working days do call again and explain your circumstances again, this is the best course of action to ensure that there have been no mistakes made and that information has not been passed at cross purposes.
You might also like...