Get the Best Deal Over the Telephone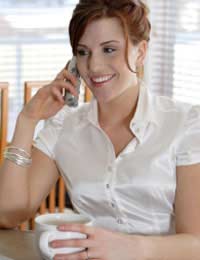 Looking for a bargain using your telephone is no different that spending hours walking around the shops in your local precinct and comparing the prices in the windows. The big difference here is that you (a) don't leave the house and (b) can save money in the long term.
Pricing by Telephone
One of the first – and best things to do – when looking for a good deal is to call around a pre-selected number of outlets and ask for their price on the item (or items) you are interested in. Most shops and outlets will be happy to provide this information for you and can also inform you of any special in-store promotions they may be operating at that time. This is also very useful when it comes to making your final selection.
Looking for a Discount
When you have collated the prices from your calls you can then whittle down the number to the prices which look most attractive. Take for example booking a holiday; this is something that many people fall foul of and once they have purchased their holiday often see the same deal cheaper elsewhere.
Holiday firms are always in the market to offer a discount especially if it is coming close to the end of the season. By using your telephone and the Internet it is possible to find and get a better deal on a holiday then if you simply walked into your local travel agent.
Playing the Bartering Game
Many people think that bartering is something you do when abroad and buying gifts to bring home; this is not the case. Even today with competitive pricing in the high street there is still money to be saved and freebies to be had. It is simply about how to approach those you are interested in buying from. This can be using the telephone to great effect; for example if you saw a piece of equipment at £200 online you could call and ask what the price would be for cash and if you came to collect it. You may be surprised at just how much you could save or indeed what items you might walk away with in addition to your purchase. As perhaps insignificant as it may sound if you buy a DVD recorder the store may not be able to deduct any money but they give you some blank discs or some free movies. All in all it represents a saving that is better in your pocket.
Price Comparison
As we have already mentioned using the telephone is a good way to get the prices of goods in-store on the day. Many store websites show prices that may have changed because of special promotions in store so it is worth asking the question. Likewise you should mention in passing that you have had a better price from another store in the high street and this is often a good way to initiate the discussion about discounts or freebies.
All Inclusive Tariffs
If you have an all inclusive tariff from your telephone company – which many individuals now do – you can save even more money because calling during the day does not cost anything to begin with. This represents a further saving in the long term and frees you up – as the potential customer – to spend longer on the telephone looking for that allusive bargain.
You might also like...