How Businesses Use Pre-written Scripts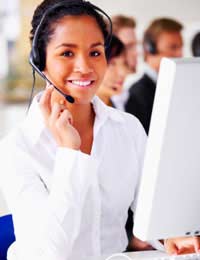 You may find from time to time that when you make contact with a particular business such as a bank or building society, that they use the same phrases or ask the same questions? This is because they are using a previously prepared script.
Why Use a Prepared Script?
Many companies use prepared scripts because it helps to reduce the chances of them giving you – the customer – the wrong information. In addition to this it allows them to make sure that all of their staff are giving out correct information and asking the relevant questions when they speak to a customer.
What Does a Prepared Script Consist of?
In essence a prepared script is a written conversation into which your name and the individual receiving the call's name are placed. This will normally sound something like this:
Good morning, my name is (insert name). Thank you for calling (insert name of company). How may I hope you today?
Open and Closed Questions
A prepared script allows for the asking of open and closed questions which will help the person taking the call to identify exactly what it is you – the customer – wants and how they may best assist you.
A closed question will normally have a yes or no answer to it such as 'Is there anything else I can help you with today?', whilst an open question will allow for a more comprehensive answer. A good example of an open question would be 'How may I help you today?' This allows for you – the customer – to explain why you are calling and also give more pertinent information such as your name, address etc.
Scripting to Help Speed up Your Call
Sometimes scripts are used as a means of making sure the call lasts no longer than is necessary. A good example of this would be if you have ever called a business or call centre and found that the call has taken perhaps in excess of ten minutes. Although this may not be a drain on your time it may well be on the time of the person on the other end of the line so a script allows the call to flow smoothly from beginning to end.
In essence the nature of a script should be such that the caller is able to provide the reason for their call as well as their information while the script allows the employee to move from greeting to farewell whilst gaining all the relevant information and providing you with the information or service you need.
Will I know if Someone is using a Prepared Script?
More often than not yes you will. Some individuals whilst reading their script slow down to their reading speed whilst talking which enables the caller to pick up on the fact a script is being used. Using a script is not necessarily a bad thing but it can stilt the caller's ability to think ahead as they try to listen to what is being read to them.
A good way to deal with this is to ask the individual on the other end of the line politely to wait until you have finished speaking before they continue with their scripted dialogue. Scripts often include disclaimers such as warning you that calls may be recorded so it is important to listen to this information and answer that you are aware of these procedures.
What if the Help I Need isn't Detailed in the Script?
This often happens because businesses try to keep their scripts short and to the point. Often you will find you have a query that the script doe not cover. This is fine though and you should ensure that when speaking to the company's representative you give them as much information as they are giving you.
To conclude scripts are useful and used as a means of speeding things up without losing momentum so it is worth – if you can – bearing with the person on the other end of the line until they have gone through all they need to with their script.
You might also like...