Prompt Communication Led to Better Business: A Case Study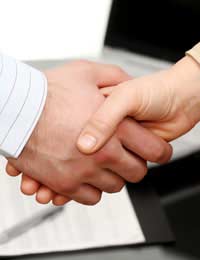 When Amy Greenyard set up her own business, she was determined to present herself to clients in a positive light. To help her, she spoke to a friend in public relations. Between them, they produced a communication policy.
The Policy
"A communication policy might not seem a priority for a new business, but it was for me. Too many times in the past, when I worked as an employee, I'd seen people miss business opportunities because of lazy communication practices.
"In my experience, the standard of communication where I used to work was generally okay. But the delays in replying to customers, suppliers, and so on, seemed to me unacceptable.
"Maybe it's just me, but I have this habit of imagining myself waiting for a response from a business. The longer the wait, the more frustrated I become.
"Let's face it, business moves at a fast pace these days – or at least it has to if you want to stay ahead. Chasing up enquiries, and waiting around for replies can drag you down.
"When I set up my own business, I therefore resolved to reply to enquiries, requests for quotes, and so forth promptly. Because I also had a small staff group, I wanted them to follow suit. Hence my idea for a communication policy."
Phone
"The policy I devised with my friend is simple. It takes the main methods of business communication – phone, email, post, and face-to-face and applies targets to them.
"Take phones, for instance. I expect my staff to answer phones within three rings. If all the phones are busy, I have a system that routes the calls to an answer machine after three rings.
"You'll note that I don't use a call queuing system. This is simply another form of communication delay for the caller. I'd much rather invite the caller to leave a message and phone number.
"My system means that staff must check the messages regularly – and they do. When a phone is free, it registers that there's an outstanding message. A member of staff then takes the message straightaway and returns the call.
"I know some people don't like leaving messages, but I believe this is better than a queuing system. I've run the message service for almost a year now, and I've had favourable comments from customers."
Email
"Email is a great way of communicating quickly and cheaply. It's important, though, to answer questions sent by email as quickly as possible. This, to me, is one of the major bonuses of the email system.
"For example, a potential client on the other side of the world sends my company an email enquiry. Allowing for time differences, I ensure the client has a full response within a maximum of 24 hours of the email's receipt.
"This can pose problems at weekends if an email arrives late on Friday. When this happens, I take responsibility for replying.
"Once again, as with my phone system, I've had good feedback from clients. 'Thank you for your prompt response' is praise that I welcome."
Post
"I don't receive or send many letters in my business. I do send out the occasional invoice by post, however.
"My timescale for sending invoices is within 24 hours of a client's purchase. This promptness seems to be catching because I've been lucky enough to receive most payments within a reasonable period of time!"
Face-to-Face
"When it comes to meetings with clients and suppliers, my communication policy is also specific. If a client or supplier requests a meeting, my staff or I must arrange it to take place within five working days. The average over the past six months has been three days.
"If someone calls me to a meeting, I respond on the same day, and always try to attend. As a client said to me not long ago, this approach has earned me a reputation for efficiency.
In Conclusion
"I have deliberately not included communication skills in my policy. My business is such that everyone I employ has to have a proven communication skill anyway. But I can see the relevance of expanding the policy for other industries.
"In conclusion, therefore, I'd say that all businesses should think about introducing a communication policy to suit their needs – and the needs of their customers. I'm convinced that such a policy is a sound business practice. It can also improve your profits."
You might also like...