How Positive Language Achieves Positive Communication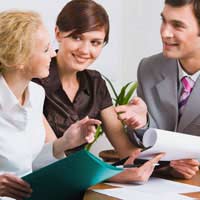 The difference between positive and negative communication is clear. Positive communication can boost the motivation of an audience, and create a sense of achievement. Negative communication can damage people's confidence, and leave a feeling of despair.
Negative Attitude
A gloomy attitude usually leads to negative communication. Some people, for example, never look on the bright side. They criticise freely, and have plenty of reasons why something or someone won't be a success.
Such people can annoy, and even depress, those who listen to them. A negative attitude doesn't stop with oral communication, however. It can occur in letters, emails, and other written material. Consider the following examples.
1. 'You failed to supply the information, so we cannot help you on this occasion.'
2. 'You claim that you sent us the quote, but we cannot find it. No doubt you'll understand that we are unable to respond in full.'
In example 1, the tone of the sentence suggests the recipient's apparent carelessness has annoyed the writer.
In example 2, the use of the phrase 'You claim' suggests the writer thinks the recipient is lying. The phrase 'No doubt' even makes the writer sound sarcastic.
Both examples also have negative words such as 'cannot' and 'unable'.
These phrases, words, and tones are bad practice in business. If used in personal communications, they're likely to alienate friends and family.
A More Constructive Approach
Positive communication encourages cooperation. It resists the harmful nature of negative communication, and the conflicts that go with it.
A positive reworking of the two examples given above might run as follows.
1. 'We are missing ________ [the required information], but if you can send it to us we'll be able to help you. '
2. 'The quote is mislaid, but if you can forward a copy, we'll respond in full.'
A positive approach stresses what the communicator can do, not what he or she can't or won't do. It also gives options to the recipients, and in these instances a second chance to supply requested information. In fact, the positive tone encourages them to take the opportunity to do so.
If the recipients to these messages reply, the writer has succeeded. If they read the first examples, they won't be in touch again – unless they complain about the negative tone of the communications.
Positive Spoken Communication
The examples are from letters or emails. If a writer thinks about what he or she is doing, it's possible to change negatives to positives before despatch.
Achieving positive communication with speech can be more difficult. If peoples' natures make them downbeat and critical, it's a struggle for them to change their ways.
One approach is for others to reply to negative views in a positive way. Most negative people like an audience that's eager to hear them. They may keep their thoughts to themselves when faced with positive outlooks.
Achievement
Such outlooks are catching. People respond well to them; motivation and levels of happiness increase.
At work, this can result in more effective teams, and greater business success. At home, positive communication that helps and supports family and friends can create a pleasant, relaxed environment. Both situations are worth striving towards.
You might also like...