Bypassing a Messaging Service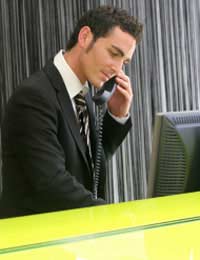 There are many of us who will have at some time called a telephone number only to find a recorded message telling us that the individual we wish to speak to is not available. Sometimes this is not want we want and we find that we have to speak to that person as soon as possible. Here are a few tips as to how to bypass a messaging service.
Using a Direct Dial Number
Many offices have direct dial numbers which can be used if you – the customer – wish to bypass the switchboard service. These direct dial numbers are usually a standard prefix followed by the last four digits which make up the individual's extension number. Using this number can connect you directly to the desired extension without having to speak to a receptionist or be put on hold at the switchboard.
Calling a Masked Number
A masked number is a number which has been hidden behind another number such as a 0845 or 0870 number. As these numbers are masked this means that they often do not pass through the switchboard are often routed directly to another telephone within the building. This is useful if you are trying to locate an individual working in or around the area where that telephone is located. In addition to this the call is charged at a local rate so holding for a moment is not particularly expensive.
Leaving a Message at Reception
This may sound very simple but it is something that many people either forget to do or don't like to do. It is important to understand that the receptionist – be it a male or female – is there to help you and leaving a message with them to ask the individual in question to contact you is often a considerable help. In addition to this a receptionist will also help you find the right person to speak to – especially in the absence of the person you wanted to speak to – and this can help avoid leaving a message on an answering service. Most switchboards and automated messages will ask you to press zero to be returned to the reception.
Sending a Voice File
We have looked at how to record and send a voice file on Communications Expert and this is something that can be very useful if you have the facility to do so. Recording a voice file on your PC and then attaching it to an email means that your message can be picked up by the individual in question anywhere in the world in just the same manner as you would with a mobile telephone – the difference here being that you can also attach written information on your email for their perusal.
Call Their Mobile if You Have Their Number
Many people do not like to call mobiles simply because of the cost – however in recent times the price of mobile telephone calls has dropped considerably as a result of an investigation by the industry watchdog OFCOM. This means that you can call a mobile – even if the individual in question is overseas – and leave a message without spending a large sum on the price of a mobile call. In addition to this you can guarantee that the recipient will get the message even if they have switched their mobile telephone off.
Emailing Info @
Most companies have an 'info@' email address listed on their website. If you cannot get through it may be worth sending an email to this address and marking it for the attention of the person in question. Likewise if they have an email address send them an email directly and ask them to call you as you have been unable to reach them.
Call Another Number
Most companies have more than one telephone number which is used for more than one purpose. For example if you are trying to get through to someone in accounts but can't why not try contacting sales and marketing and ask them to put you through. They may not be able to put you through to the extension you want but they should be able to get you through to the right department at least.
All in all there are many ways in which you can bypass a messaging service especially if you are one of those individuals who have spoken of who do not like to leave messages.
You might also like...