Discussing Your Account Details Over The Phone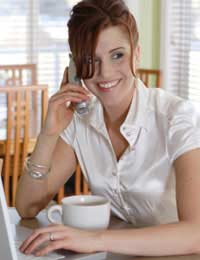 We have all contacted our banks or building societies at one time or another to discuss the nature of our accounts with them. This could have been for any number of reasons but whatever the reason there are procedures and guidelines to be followed to ensure both you – the customer – and those you are requesting information and advice from adhere to the rules of discussing personal information.
I Want To Discuss My Account on the Telephone, What Should I Do?
The first and most important thing to do before contacting anyone regarding your account is to make sure you have the relevant information to hand. This will make things not only easier for you to explain but also easier for the person on the other end of the line to understand.
You should remember that when it comes to bank and building society accounts everyone's account is different in terms of how much money they have and how they manage it – this is why giving as much information as you can at the beginning of the call is vital to ensuring a hassle free conversation.
Who Should I Speak To About My Account?
As most banks and building societies have now withdrawn their individual branch telephone numbers it is feasible that you will have to contact a call centre. As we know there are many call centres operating outside the United Kingdom on behalf of these banks and building societies so you should be aware that you may well have to speak to someone with a different accent to you.
Firstly it is important that you listen to what you are being asked – again if you are speaking to someone whose accent is difficult to understand you should ask them to repeat anything you don't understand as they will you.
Most call centre staff are trained and authorised to deal with queries regarding your account and they will ask you to confirm specific details such as account number, sort code, name and address, date of birth and the password on your account. It is important that you know this information as without it the call cannot legally be allowed to continue.
Proving Your Identity
This is the key to any conversation regarding bank or building society accounts. You must – as we have already touched upon – be able to prove you are who you say you are and that the account is yours. You may be asked to provide details of a direct debit, standing order or amount of money that has gone in or out of your account. This is information that only you should know.
Likewise when calling about such accounts you cannot call on behalf of anyone else and neither can they do so on your behalf. If this is the case then you must be present to provide authorisation to do so – without it again the call cannot continue.
The Recording of Telephone Calls
You should be advised before any call continues as to whether or not it is being recorded – many banks and building societies do record their telephone calls for the purposes of security and also staff training. In the instance of any telephone call relating to your account and details of your account they must inform you as to whether the call is or isn't being recorded.
For further information you should visit your local bank or building society branch and ask for information on their telephone procedures or visit their websites where you can download copies of their terms and conditions and security procedures.
You might also like...
You'll almost certainly be contacting a call centre, which may or may not be in England. You will need to be able to prove your identity, which can involve security questions you've set up (especially if you also bank online). Often the hardest part can simply be finding the relevant department, but talking to an operator can be the simplest menu (when offered a menu, as in 'touch 1 for whatever,' try hitting 0).
William
- 13-Sep-12 @ 7:07 PM